Earlier this month, Janelle* decided to toilet train her young son. She might have been tackling this milestone a little early, but she realized she could save money if she didn't have to buy diapers each week. Unable to work during the COVID-19 crisis and sheltering-in-place with her family in her new apartment, Family Promise gift cards and donations are helping her pay for food and other essentials.
On March 27, a $2.2 trillion coronavirus relief bill, the largest aid package in history, was signed into law. In the coming weeks eligible low- to moderate-income Americans will begin to receive stimulus checks, but many like Janelle who were already struggling before the COVID-19 outbreak are at risk of not receiving a payment.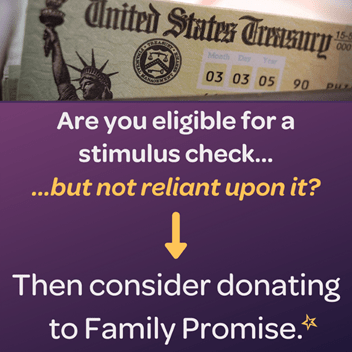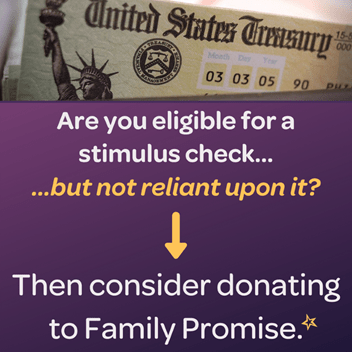 Those likely to be overlooked include individuals earning less than $12,000 and those who did not file taxes or receive social security benefits, as well as those without documentation and/or experiencing homelessness.
The Treasury Department plans to develop a system that allows these individuals to identify themselves, but checks could arrive as many as five months later, and individuals in this category will likely need to be proactive and prove they qualify.
Even if individuals who don't file taxes or receive federal benefits are identified to receive a stimulus check, there are still hurdles. Many don't have bank accounts to easily cash checks, and for those without a home, mailing addresses could be a hindrance.
For many families, this support will be an essential lifeline to keep their loved ones fed and housed during the outbreak and the resulting economic turmoil. But not all Americans need that extra cash to help them through this outbreak.
If you're considering how this money can help those who need it most, please remember children and families struggling with homelessness. Your support can make a difference for the thousands of families Family Promise is working directly with who fall into this category.
The traditional cost-efficient Family Promise shelter model has ceased to operate due to shelter-in-place and social distancing mandates, and families like Janelle's are sheltering in place, unable to work, staying temporarily leased motel rooms or other vacant spaces, an added expense during a time when they're also facing job loss, inability to find employment, and other unexpected costs.
If circumstances permit, please consider this additional way to help families who need our support the most.
Family Promise of Roane County