Your help is needed!
Please help us provide compassion, care and hope for our homeless families in Roane County. You, your family, your community and your congregation or community organization can help Family Promise in three ways: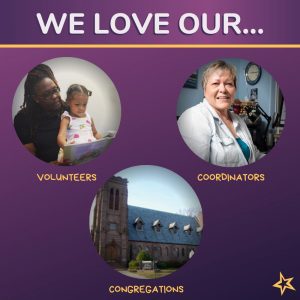 Money
Please consider making a financial contribution to Family Promise of Roane County. All donations are tax deductible. Family Promise of Roane County is a 501c3 organization. Donations can also be made on our website.
Volunteer
Volunteer opportunities are available for all ages, talents, interest & experiences. Consider how you can help the homeless families in our community. Call us to get involved!
Van drivers needed (training available). Sign up.
A Short Wish List:
Lysol spray and wipes

stacking storage bins

diapers of all sizes

pack-n-play with bassinet

butt paste/Desitin

stroller

DVD's

gas cards

laundry soap

sheets

deluxe folding cot set for adults & kids sleeping bed portable sturdy for heavy people with mattress (from Amazon Wish List below)
Here's an easy way to help, visit our Gift Registry at Amazon Smile and pick out one of our Wish List items. Thank you!